All activities have been moved to the SCEC-Mahanoy City site. Please call the Mahanoy City site at 570-773-1270 or email scec@edcouncil.com if you need assistance.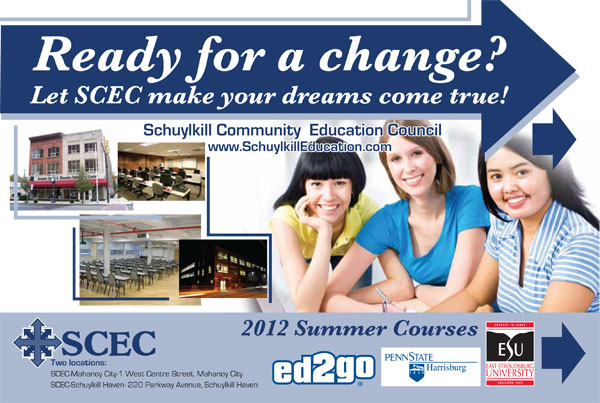 East Stroudsburg University of Pennsylvania
School Community Relations
60231/PSED 587
June 18-22, 8 am-5 pm
SCEC-Mahanoy City
This course presents public relations as a comprehensive concept of interpretation for the public schools. Tenets, means, agents, and agencies to produce increased social understanding and appreciation of the educational function among school personnel and the general public are discussed. (3 graduate credits)
Together: Mainstreaming in Schools
60230/ELED 552; 60229/PSED 552; 60236/SPED 552
July 9-13, 8 am-5 pm
SCEC-Schuylkill Haven
The purpose of the workshop is to cause meaningful interaction of special and regular education teachers. The interaction enables them to review and to develop positive models for their particular schools that allow for exceptional and non-exceptional children to learn together, to respect each other, to know each other. A major emphasis will be to devise, through group interaction, a plan for implementation of mainstreaming in the particular schools. (3 graduate credits)
To register visit ESU's extended learning page or call 570-422-2872.
PSU Environmental Training Center
Chlorine Safety Workshop
6 hours, DW.WW, PaDEP ID# 2952
July 25, 8:30 am-4:15 pm
SCEC-Schuylkill Haven
This course is designed to meet the system security training requirement to the Pennsylvania Water and Wastewater System Operators' Certification Act. The learner will be able to recognize methods for developing and increasing security awareness as it applies to water and wastewater treatment facility operations.
To register visit the Environmental Training Center website or call 717-948-6388
SCEC Online Courses
A wide range of highly interactive courses that you can take entirely over the Internet. All of our courses are led by expert instructors, many of whom are nationally known authors. Our online courses are affordable, fun, fast, convenient, and geared just for you.
Register online or call 570-773-1270